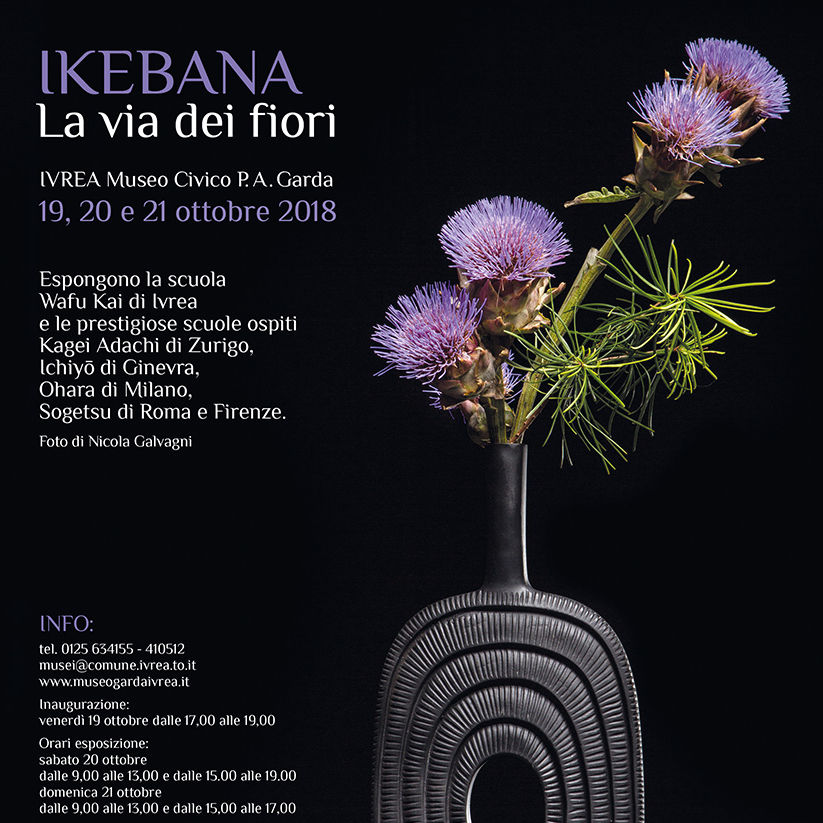 La Via dei fiori – Ivrea – October 19 – 20 – 21, 2018
Ivrea – October 19 – 20 – 21, 2018
Ivrea, Museo Civico P.A. Garda
Opening: friday October 19 from 5.00 pm until 7.00 pm
Opening hours :
Saturday October 20 from 3.00 pm until 7.00 pm
Sunday October 21: from 3.00 pm until 4.00 pm
Ticket: € 5,00 / € 4,00
Oriental art continues to be at home at the Garda Museum which will host, from 19 to 21 October "Ikebana – the way of flowers", the international exhibition, realized with the contribution of the CRT Foundation and the Guelpa Foundation, under the patronage of the Consulate General of Japan in Italy and the Piedmont Region.
Artists of the Wafu Kai school in Ivrea led by Ingrid Galvagni Tosei, the Ohara schools in Milan, Kagei Adachi in Zurich, Sogetsu in Rome, Florence, Venice and Merano, and Ichiyo in Geneva, together for the first time in Italy, will exhibit their ikebana at the PA civic museum Garda.
The guest of honor of the exhibition will be Geneviève Kokera Ausenda, Grand Master Ohara, who, throughout her life with great passion and commitment, has contributed to spreading the art of the ikebana.
Wafu Kai
Wafu school was founded in 1896 by Wafu Teshigahara. In 1946 the director of the school (iemoto), the eldest son of the founder, introduced a new style of ikebana. A tireless artist, he presented his works all over the world, wanting to transmit through the ikebana a message of peace and understanding among peoples. His personal vision of the art of ikebana, summed up in the motto "flowers that you like – suitably – in a container that you like", spread to Japan, the United States and South America. Since 1992, the current iemoto follows in the footsteps of its two predecessors.
Ohara
Ohara school, founded by Unshin Ohara at the end of the 19th century but officially only in 1912, emphasizes seasonal characteristics, natural growth processes and the beauty of natural environments. It is an address that has developed, in particular, moribana style defined to represent through floral compositions an idea of ​​landscape with literary and pictorial connotations and defined Bunjin and Rimpa.
Kagei Adachi
Choka Adachi, founder of Kagei Adachi school in 1912, was intended to free ikebana from traditional forms and styles. The criteria he advocated were to emphasize the asymmetry, water as a vital element of plants, had to be visible as part of the composition.
Sogetsu
Sogetsu School (literally "Grass and Moon") was founded in 1927 by Sofu Teshigahara, an artist interested in the modern world and strongly influenced by the opening of Japan's borders. He "removed" the ikebana from his usual position: the tokonoma. Using new materials and innovative techniques he stated that: ikebana can be done by everyone at any time, anywhere with any material.
Ichiyō
Ichiyo school, founded in 1937 by Meikof Kasuya and his sister Ichiyo, tried to adapt ikebana to the contemporary way of living while maintaining traditions and teachings of the past. In 1983, Akihiro Kasuya became the third school iemoto and introduced theatrical performances, realizing ikebana in which balance and technique of tension predominate.